Corbin Technologies
Computer Consulting Minneapolis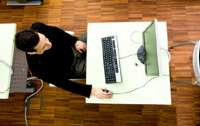 Corbin Technologies is a computer technology company in Minneapolis specializing in computer networking, support, and services for businesses.
Additionally, we offer support for home computer users including security help, virus and spyware removal, data recovery, hardware repair and technology consultations.
We take a hands-on personal approach to every technological challenge. We communicate with you to find out what you need and help you to understand the technology that we deliver. We will give you the best possible solution and will be on call to make sure everything is working the way you need it to.